Weekly News from Your Wisconsin Democratic Party Chair
Follow this newsletter to keep current on the events shaping our state and the work our party is doing to win in 2018 and beyond. 
2018 DPW State Convention speaker announced: Mayor Pete Buttigieg!
Tribune Photo/Robert Franklin
We are thrilled to welcome South Bend, Indiana mayor Pete Buttigieg to our state convention this year. Mayor Pete is a rising star and a trailblazer whose progressive, Democratic values resonate even in some of the reddest parts of our nation.
Pete was elected mayor in 2011 at the age of 29 with 74% of the vote, making him the youngest mayor of a major U.S. city. Under his leadership, South Bend has seen some of its fastest growth in years. In 2013, GovFresh.com named him national Mayor of the Year and the Washington Post has described him as "the most interesting mayor you've never heard of." He is a veteran of the war in Afghanistan and impressed many with his straight talk on the issues when he ran for Chair of the DNC. Mayor Pete is a shining example of the incredible young leaders we have in our Party.
I can't wait to welcome Mayor Pete to Wisconsin! In an increasingly exciting year for Democrats and with national attention turned toward Wisconsin, it is a great time to host a fellow Midwesterner.
The DPW State Convention will be held at the Best Western Premier Waterfront Hotel & Convention Center in Oshkosh on 

Friday, June 1 and Saturday, June 2

. It is our biggest event of the year and it is a great opportunity to meet fellow Democrats from across the state and work toward Democratic victories!
"The Fight for Wisconsin Is On as Outside Money Pours Into Senate Race"
It's no surprise that our Senator Tammy Baldwin is the top target of big money special interests. They want Washington to keep working for them, not Wisconsin! The fact is, people here in Wisconsin know that Tammy has been listening to them, not special interests.

They've seen her write legislation to stop greedy hedge funds from profiting at the expense of hardworking families. They've seen her reach across party lines to lead on Buy America reforms to protect our state's economy, advocate for dairy farmers and our small towns, and lower Wisconsin families' prescription drug costs. Tammy cares about the people she represents, and Tammy is putting Wisconsin first.
Bill Clark/Getty Images
"For many national Republicans, Ms. Baldwin has emerged as the top target in the 2018 midterms: Donors from outside the state are spending twice as much money on the race so far as on any other Senate contest this year, according to an analysis by the Center for Responsive Politics, a nonpartisan group that tracks money in politics. Much of the money has gone toward television and radio ads…
The fight may become the most expensive Wisconsin Senate race ever: An analysis by the state Democratic Party found that nearly $10 million in advertising had already aired or been purchased by outside groups against Ms. Baldwin or in favor of Mr. Nicholson. (Mr. Nicholson's camp put the number at nearly $9 million.)"
Walker turns to VP Pence to help save him
Rick Wood / Milwaukee Journal Sentinel
VP Mike Pence came to Wisconsin this week to fundraise for our desperate Governor Scott Walker. They bragged to their donors at a "policy round table" about the #GOPTaxScam they passed (which would give GOP mega-donors like the Koch brothers an extra $1 billion every year), then went to a fundraiser where they collected money from the very same mega-donors that they just gave a trillion dollars in tax cuts.
This is pay to play at its worst, and it leaves the rest of us behind. The Republican tax law sends 80% of its benefits to the wealthiest 1% and big corporations like Exxon, Wells Fargo and Pfizer. To fund these tax breaks for the wealthy elite, the GOP has made devastating cuts to Medicare, Medicaid and Social Security. The GOP agenda is simply unfair and lacks the sort of compassion for our neighbors we Democrats value.
While Republicans have created economic insecurity for hardworking Wisconsinites, Democrats have fought to restore tax fairness. That means giving middle-class families a tax break and building an economy that works for everyone, not just those already at the top. We believe in strengthening our communities and ensuring that every person has the opportunity to get ahead.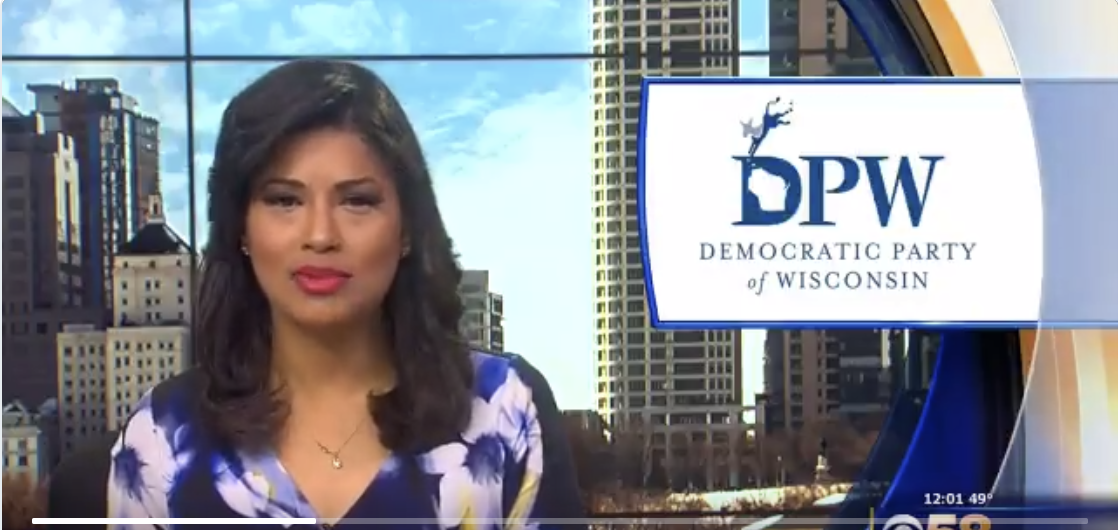 Milwaukee community leaders had something to say about Pence's visit. Watch here.
Louis Woo, a Foxconn executive, was also in attendance at the Pence-Walker donor round table. This week, the Walker administration officially approved Foxconn's request to pollute our air and draw 7 million gallons of water from Lake Michigan every day.
As if signing away $4.5 billion of taxpayer money weren't enough, Walker has happily sacrificed our air and water quality for Foxconn. What's worse, we don't even know the full extent of the damage Foxconn will inflict on our environment — Republicans exempted Foxconn from producing an environmental impact statement, a necessary review to ensure that our natural resources are protected.
Foxconn should be held to the same expectations as Wisconsin-owned businesses. Clearly, we need a new negotiator-in-chief who prioritizes investing in Wisconsin entrepreneurs who care about the air their family breathes and the water they drink. Imagine if instead of giving $4.5 billion to a polluting foreign corporation we had invested in hundreds, even thousands, of small businesses across the state that share our values of environmental sustainability!
A healthy environment and healthy economy is essential for healthy communities, and Scott Walker has shown he's far too willing to sacrifice the future and livelihood of our state for an election-year campaign stunt.
We need to continue holding Foxconn accountable. Consider joining Democratic members of the legislature at one of the two Foxconn town hall events next week. Your voice is important as we continue to make sure that not only our environment but Wisconsin taxpayers are protected!
AG candidate Josh Kaul responds to shocking rape kit backlog update
"A state Department of Justice spokesman estimated last year that a "small number" of untested kits since 2011 have involved unknown suspects.

On Wednesday

, after USA TODAY NETWORK-Wisconsin questioned the accuracy of that estimate, the department said about 400 untested kits since 2011 have involved unknown suspects…"
Follow the Democratic Party on Facebook and Twitter